I read a lot. And as I was thinking about what I would say if people asked me what I thought the best books were under various topics. I thought about it a bit, and decided that there are three books at the top of my list under the topic of "leadership."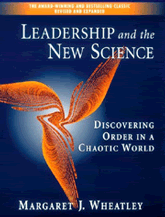 First, Margaret Wheatley's Leadership and the New Science: Discovering Order in a Chaotic World. Wheatley explores the implications of chaos theory and quantum physics for leadership. The premise is pretty simple. The universe is wired to function a certain way. We are part of the universe, and interact with it accordingly. Paul Lakeland (author of Postmodernity) has noted that whereas the handmaiden of theology used to be philosophy, in the postmodern period it has shifted to science, now that theologians are no longer seeing science as incompatible with religion. In that vein, I think that it is appropriate that the implications of the new sciences be explored for leadership in the church as well.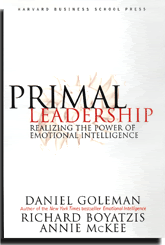 The second work has several authors: Primal Leadership: Learning to Lead with Emotional Intelligence by Daniel Goleman, Richard Boyatzis, and Annie McKee. The authors explore the implications of recent discoveries in neural science on leadership. Bottom line: the prerequisite of leadership may be general intelligence (IQ), but pulling it off with excellence takes emotional intelligence (EI). Emotional intelligence is the key to facilitating "resonance" in relationships. It sounds simple, and this thesis has been done before, but I like the way that the authors offer specific ways to increase one's emotional intelligence.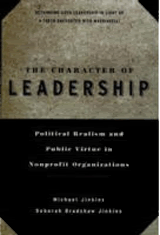 Finally, the book that redeemed Machiavelli for me: The Character of Leadership: Political Realism and Public Virtue in Nonprofit Organizations by Michael Jinkins and Deborah Bradshaw Jinkins. The danger of leading the nonprofit is the idealism that brought it into being in the first place. There is a "principle" behind its existence. Unfortunately, there is also the "real world." If one wants to make a difference in the world by leading a nonprofit organization, one must first come to terms that there is a certain amount of political realism that must be embraced, even to the point of relinquishing the ideal. The focus must remain on the common good rather than the idealized good without loosing one's self. Therefore, nurturing one's character (or virtue) is important. Their key virtues include integrity, courage, flexibility, talent, and prudence. The real world is one of constantly conflicting values. As they say, "The realistic leader weighs the value of the strategy's success with the value of avoiding such political games. … Great leadership does not only conform to reality, it transforms reality. … The ultimate purpose of leadership is not our own survival, but the transformation of the communities, the societies, and the institutions and organizations we serve." (193)